Born to be Chet Baker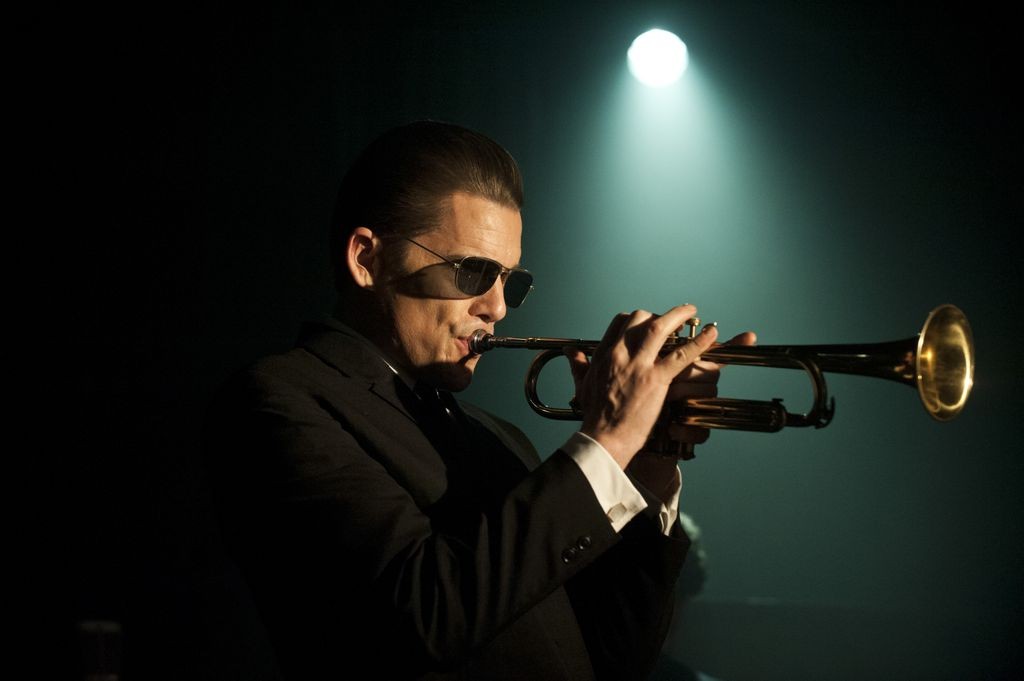 This is the year for stories about great trumpet players.  We saw Satchmo at the Waldorf onstage last month,  Miles Ahead (about Miles Davis) just opened, and today Gail and I saw Born to be Blue, a relatively unheralded film about Chet Baker.
Ethan Hawke brings Baker to life in all his insecure, self destructive, yet supremely talented, glory.
Baker was a star of the jazz scene in the 50's, then spiralled into obscurity with heroin addiction. He was trying to make a comeback when a savage beating, perhaps from his drug dealer, knocked out his front teeth and destroyed his embouchure,  the way he could hold his mouth and lips to play the trumpet.
Years later, with incessant painful practice, he was able to make his return to the music scene, with a climactic return to Birdland in New York City.  From there, he resumed his career, living and playing in Europe for the remainder of his life until he died in Amsterdam in 1988, jumping, falling or being pushed out his window.  There was heroin and cocaine in his system at his death.
The movie concerns itself with the time between the beating and his triumphant return.  Like jazz, it improvises.  Some of the story is true, some is made up.  The main female character, played by Carmen Ejogo, whose love and care are crucial to his recovery, seems to be a made up composite. Events that took 5 years seem to only take a few weeks. It doesn't matter.
What does matter is how well Ethan Hawke brings the character to life, with all of his faults, flaws, tics, tremors and weaknesses intact but overridden by his talent and singleminded drive to just play music, his way.  It's a breathtaking performance, one that would be a careermaker if Hawke wasn't already a star.
The cinematography is brilliant, moving from black and white in the scenes set at the beginning of his career, then deep sepia toning as his love affair grows and gets clean, then the bright lights of the recording studio and the nightclub when he returns to the spotlight.
The music is, of course, magnificent.
This is a very good movie.  I was surprised to see that it got an 84 rating on the tomatometer, while Miles Away only received a 71% fresh rating.  It won't make a big splash, since there are no car chases or gang wars.  It's that Hollywood rarity, a serious movie for adults.  If you're an adult, get serious and go see it.